Welcome to the Saturday Roundup, a weekly roundup of all the important news going on in the gaming world. If you're sick of gaming websites' content turning more and more casual, or trying to pass off a single sentence and a link to a cool picture they saw on deviant art as 'news,'
you've come to the right place. I aim to consolidate and summarize only the stuff that's most important to gaming enthusiasts. It's a mix of hard news, interesting features, and other tidbits that I feel like you guys would enjoy. Let's see what's been going on this week:
Forget about next-gen consoles that may or may not be arriving soon, build yourself a Steambox for less than $400. TheVerge teaches us how to slap together a budget PC for around $300. Couple this with the newly released 'Big Picture Mode' on Steam, which reformats Steam for use with your TV and game controller, and you've essentially got yourself a media PC that doubles as a home console. With the Steam library growing by the day, and encompassing the vast majority of major console releases, are Sony and Microsoft's console development days numbered?
On that, to celebrate the release of Big Picture Mode, Steam are having a sale on controller friendly games! The sale lasts until December 10th, and has some fantastic deals, such as Left 4 Dead 2 and Braid for 75% off, the newly-released-on-PC Xbox live hit Castle Crashers and various games in the Lego franchise for 66% off, and some game called Wizorb that I know nothing about but holy cow it's only 74 cents!
Steam's 'Big Picture Mode' brings your Steam library to your living room.
A League of Legends pro-gamer has been banned from competing in tournaments for a year. Christian Rivera, AKA 'IWillDominate' of team Dignitas was issued the ban earlier this week, for multiple counts of unsportsman-like conduct and in-game harassment. He appeared in the Tribunal, League of Legend's player-participated moderation system, a whopping 9 times and was found guilty for 8 of them. It's nice to see that Riot games don't play favourites, and with this ban issue a firm reminder that even if you are a pro-player, it's not OK to be a douchebag to other players online.
Pokemon Gold and Silver are often regarded as the best games in the series, and an indie developer has been hard at work recreating it in 3D in a first-person perspective. Players can tromp through grass and battle trainers solo or team up with a friend for some cooperative play via LAN - a feature Pokemon fans have long been asking for. You can download the game for free from IndieDB.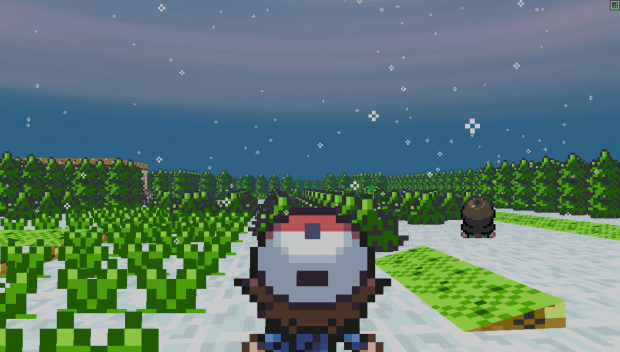 Pokemon 3D
Skyrim's 2nd major DLC pack, Dragonborn, released for the Xbox 360 this week. The game's plot revolves around the player, thought to be the only Dragonborn around, discovering the existence of another, older Dragonborn, who isn't too impressed that you've been going around kicking the shit out of all of the dragons. PC gamers will have to wait until 2013 to play it, and there's still no word on the PS3 release. I quite enjoyed Dawnguard, the first Skyrim DLC pack, so I'm looking forward to this one. Check out my Dawnguard summary here.
Bioware is looking to ease it's Star Wars: The Old Republic free-to-play restrictions. Last week I linked a video that detailed the insane, pointless, and downright cruel restrictions that free players had to endure. It looks like Bioware are listening to the fan outcry, and are planning on toning down a lot of the more mundane restrictions.
Blow the dust off your 3DS, Luigi's Mansion has an English release date! You'll be able to bust ghosts with the younger, less famous Mario brother on March, 2013. I was actually quite impressed with the 3DS when the good games started to flow in. There was a point where I was cycling through Resident Evil: Revelations, Mario Kart 7 and Kid Icarus fairly regularly, but I feel like the console hasn't had a big-name release for too long. Luigi's Mansion could be just what it needs.
Who you gonna call?
Whether you agreed or disagreed with the ethics behind last week's Humble THQ Bundle, there's no arguing that it was a resounding success, with the bundle raking in over 3 million dollars. There's no breakdown of where the money went (to THQ, charities, or the humble bundle itself), but THQ have seen their share prices rise by almost 40% since the sale began. It's been so successful, in fact, that Titan Quest has been added to the bundle!
You'll have to wait an extra month for Bioshock: Infinite. The sequel to Irrational Games' deep-under-the-sea RPGFPS will release in March, 2013. This is the second delay for the game, which was originally slated for an October 2012 release date. The delayed was reported to be for 'extra polish and bug fixing'.
Lastly, what does it mean to be a PC gamer? Robert Gilbert, of Monkey Island fame, discusses this topic with rock-paper-shotgun while talking about his upcoming project The Cave, which he says was developed primarily for the PC. It's no secret that I'm a PC gamer first and foremost, so this kind of discussion greatly interests me.

"To me, making sure that PC game felt really good and natural to play with the mouse – and not just, like, a bad console port to PC – was personally very, very important."

If only more developers would echo Rob's statements, then we wouldn't have so many shoddy PC ports, who's poor sales are blamed on piracy rather that how terrible the porting job was.
The Cave is scheduled for a January 2013 release
So that's the news for this week. Be sure to subscribe to
my twitter
for up-to-date news and blog updates, my
youtube channel
for gaming videos, check out my new digs over at
non-fiction gaming
for my regular Wednesday article (this week, it's a
Hitman: Absolution review
), and check back here every Saturday for more news!