Welcome to the Saturday Roundup, a (bi)weekly roundup of all the important news going on in the gaming world. If you're sick of gaming websites' content turning more and more casual, trying to pass off a single sentence and a link to a cool picture they saw on deviant art as 'news,' you've come to the right place. I aim to consolidate and summarize only the stuff that's most important to gaming enthusiasts. It's a mix of hard news, interesting features, and other titbits that I feel like you guys would enjoy. Let's see what's been going on this week:
Gabe Newell confirms 'next-gen' Valve game engine is in development. Confirming rumours stemming from the discovery of 'Source 2' code found earlier this year, Gabe has announced that they have been working on the engine for quite some time, they are just waiting for the right game to roll it out with. Fingers crossed that that game starts with a 'H' and ends with a '3'.
Blizzard announces 'Global play' for Starcraft II. Are you a Starcraft player with friends in Europe, America, and Australia? Frustrated that you can't all get along and play together on the same servers? Well, soon you will be able to do just that! There is no solid release date for the feature as of yet, but a rep suggests that it should be out before Heart of the Swarm's early 2013 release date.
Global play will allow Starcraft II players to tear down region boundaries.
Blizzard also announced that Starcraft II's expansion pack, Heart of the Swarm, will release on March 12th, 2013. This post on Blizzard's Battle.net blog announces the early 2013 release date of the anticipated expansion, as well as detailing the goodies included in the collector's edition, namely, an art book, mouse pad, soundtrack and behind-the-scenes DVD as well as a scattering of in-game content for Blizzard's three big franchises. I'm a bit disappointed that there is no 'cool toy' in this collector's edition, like the Diablo Skull in the Diablo 3 collector's or the Jim Raynor dogtag in the Wings of Liberty one.
The Heart of the Swarm collectors edition. Click for full-size.
But, it's not all good news from Blizzard this week, as they are being sued over security issues. The heart of the suit revolves around the physical authenticators that Blizzard sells from it's online store.

"Blizzard requires all of its customers to establish accounts with its online gaming service, Battle.net. But it fails to disclose to consumers, prior to purchase, that they'll need additional products called authenticators to keep information stored in these accounts safe. Even though the company frequently receives complaints about accounts being hacked, it simply tells the customer to attach an authenticator to their account. Blizzard doesn't inform people about this requirement when they purchase the game, and that amounts to a deceptive trade practice."
Is there only room for one gaming portable in this industry?
Rockstar Games have released their second trailer for Grand Theft Auto V. This trailer better acquaints us with the game's three main protagonists, as well as showing off a number of the game's locales and vehicles. Studious fans have done a screenshot comparison of GTAV and it's predecessor to show us just how far it's come. I'll be honest, I wasn't too excited about this game until watching this trailer, but it's shaping up to look quite good. Let's hope it gets a simultaneous PC release..
Do you have a 3DS or a PSVita? If you asked this question in Japan, you might find the 3DS winning by a factor of 47-1. The original DS dominated the PSP in sales last generation, and it looks like history is set to repeat itself this time around. With the rising popularity of smartphones, the market for a dedicated handheld gaming platform appears to be shrinking. Personally, I could never use a smartphone as a gaming platform, as I prefer the tactile feedback that only a device such as the 3DS or PSVita can offer.
Nintendo have never been big proponents of online play, but they hope to turn this stereotype around with the WiiU. Nintendo has released a promotional video that details the console's Nintendo Network, Miiverse and Internet browser features. Nintendo's foray into online play in the last console generation was disastrous at best, with it's competitors Sony and Microsoft coming out ahead in every aspect.
Some owners of the PC version of Black Ops II are getting a Mass Effect 2 disk read error. It looks like EA and Activision both use the same disk manufacturer, and there was a mix-up somewhere along the production line. In a rather hilarious attempt to capitalize on their competitor's misfortune, Bioware are offering free copies of the entire Mass Effect trilogy to the first 50 people to send in a picture of them with their faulty Black Ops II disk.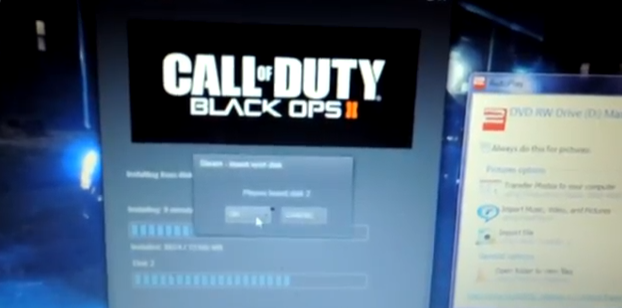 The Black Ops II error in question.
Direct X 11.1, the latest version of Microsoft's popular gaming API will be exclusive to Windows 8. Microsoft confirmed this fact while revealing the features of 11.1, which include the addition of native stereoscopic 3D support. While this doesn't really mean much for gamers right now, it means that there will be no future updates to Direct X on Windows 7, and eventually we will have to upgrade to Windows 8 in order to take advantage of new features.
Rock-paper-shotgun's John Walker takes a look at the phenomenon of video game pre-orders. Despite the fact that stores always overstock on big-name console releases, and PC release are infinitely available via Digital Distribution, pre-orders are on the rise. He argues that publishers are beckoning gamers to buy their games months in advance, tantalising them with insignificant 'pre-order' bonuses that have become standard.
Lastly, Russian criminals may be using Team Fortress 2's hat economy to launder money. Some internet detectives discovered a huge amount of Mann Co. Supply Crate keys being injected into the market, immediately traded for high-value hats, and then sold off for cash well bellow the hat's 'market price'.
So that's the news for this week. Be sure to subscribe to
my twitter
for up-to-date news and blog updates, my
youtube channel
for gaming videos, check out my new digs over at
non-fiction gaming
for my regular Wednesday article, and check back here every Saturday for more news!